Our team is dedicated to service our patients with optimal dental care in a warm, friendly environment. We make a commitment each year to stay current with our skills and practices through continuing education, accreditation, and the willingness to incorporate the latest dental technologies into our service. We love dentistry, and look forward to seeing you at your dental visit. Please call Parkway Dental today at 919-380-9622 to make your appointment with Dr. Stephen Coker and learn more about dental care in Cary, North Carolina.
Angie – Office Manager/CDA, RDH 
Angie joined our team in 2017 right after graduating Wake Technical Community College as a Certified Dental Dentist. After being a Veterinary Assistant for 12 years and a stay at home mom for her 3 children, Angie decided to change careers and pursue her long time interest in dentistry. She served alongside Dr. Coker as his assistant for a little over a year before moving up to the front office in her new journey as Office Manager. Outside of work, Angie enjoys spending time with her family and pets, as well as keeping herself busy with many crafty hobbies as well as photography and gardening.
---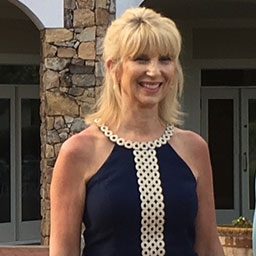 Margaret – CDA, RDH, & Clinical Manager
Margaret joined our practice in 2010. She graduated from Cape Fear Community College in 2001 with a degree in dental hygiene, and received the Gold Scaler Award for excellence in clinical skills. She loves that we are a small owned-and-operated practice dedicated to families and individuals meeting their dental needs.
Margaret has extensive experience in dentistry, beginning dental assisting 1984, with two years in oral surgery, seven years in general dentistry, and seventeen years of dental hygiene, as well as instructing on dental assisting at Central Carolina Community College for five years. In 2010, she left the community college to come to work full-time at Parkway Dental. You may find her working at the front office as well as working in hygiene or assisting in clinical areas.
In her free time, Margaret enjoys spending time with her husband; their four children; and their two Maltipoos, Bentley and Louie. Her hobbies include walking, working out at the gym, chalk painting furniture, boating on the North and South Carolina shores, or just planting her feet in the sand on the beach. Margaret and Dr. Coker attend Apex Baptist Church.
---
Kristen – Registered Dental Hygienist
Kristen joined our practice in August 2003. She is a graduate of Guilford Technical Community College with a degree in Dental Hygiene. Prior to joining Dr. Coker's team, she worked in Winston Salem and Wilmington. After a few weeks working as a temporary hygienist, she knew that Parkway Dental was where she wanted to work permanently. Kristen enjoys the atmosphere and professionalism in our office, and enjoys working with caring and kind coworkers. She strives to establish bonds and lasting friendships with our patients, meeting their individual needs in a comfortable, caring manner and helping them achieve optimal oral health.
Kristen and her husband Kevin have a daughter, Charlee, and a son, Layton. Outside of the office, she enjoys spending time with her family, reading, and visiting her hometown, Wilmington, North Carolina.
---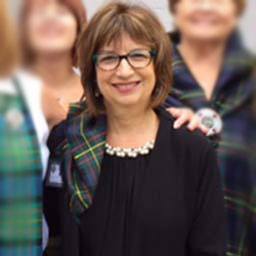 Kay – Registered Dental Hygienist
Kay has been with our team since 2008. She earned her degree as a Registered Dental Hygienist from Pensacola Junior College. She served as a Florida Dental Hygiene Board Examiner for 10 years, and owned and operated Dental Direct, a dental employment service, for fifteen years in Tallahassee, Florida. Kay feels that she has found her professional home at Parkway Dental, and feels privileged to work with this talented group of dental professionals. Her coworkers are Kay's favorite part of our practice!
When not at work, Kay enjoys spending time with her husband and two daughters, and participating in family sport and church activities. She also plays tennis and takes great pleasure in going to the movies and spending time with friends.
---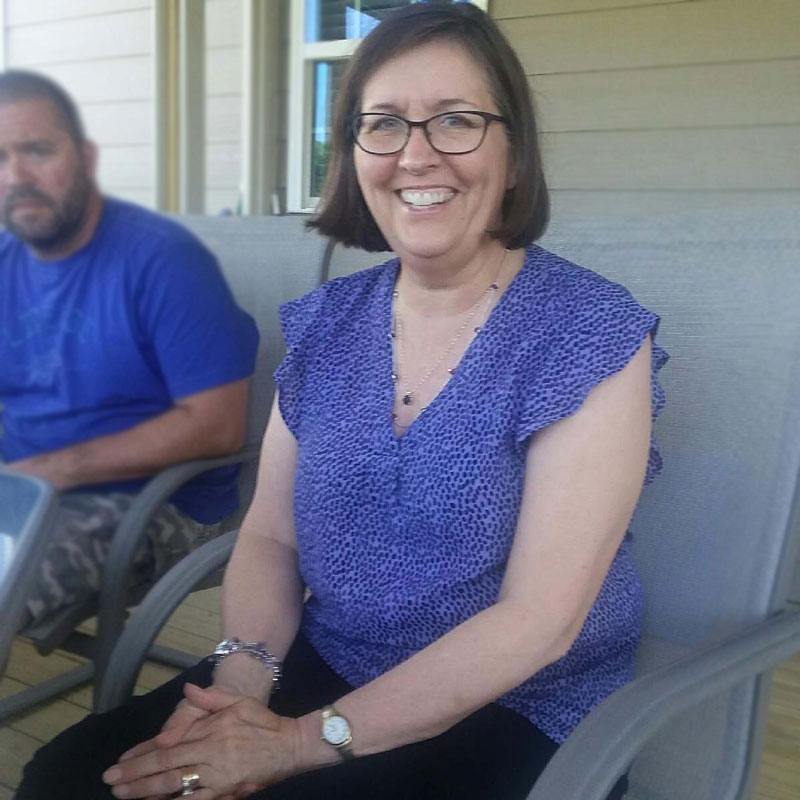 Suzanne – Registered Dental Hygienist
Suzanne has been with our team for three years. She received her certification as a Registered Dental Hygienist from the University of Pittsburgh, and has a Bachelor of Science degree in dental hygiene education from Indiana University of Pennsylvania. Prior to joining Parkway Dental, Suzanne worked for several years as a clinical instructor at Wake Technical Community College. She enjoys being part of a practice that listens to the patients' needs and desires and provides quality, customized service. Suzanne works hard to provide gentle, thorough cleanings and motivate our patients toward lifelong good oral health.
Suzanne is married, and has two grown sons. Her hobbies include bicycling, Bible study, and spending time with her two precious grandchildren.
---
Carolyn – Front Office Assistant
Carolyn has been working with Dr. Coker since 2006. She met the team as a patient after moving from Michigan to Cary. Impressed with the excellent dental care and family-friendly atmosphere, Carolyn was happy to join our practice.
Outside of work, Carolyn enjoys spending time with her husband and three children. She loves cooking, gardening, and walking her two dogs.
---
Marsha – Certified Dental Assistant 
Marsha joined our team after graduating from Wake Technical Community College in 2018 as a Certified Dental Assistant.  After working as a preschool teacher and being a stay at home mom, Marsha decided to change careers and work in the medical profession.  She chose dental assisting because she wants to help people regain confidence in their smiles.  Marsha enjoys being part of a practice with a home-like feel, friendly co-workers, and excellent dental care.
Outside of work, Marsha enjoys spending time wither her husband and son, as well as painting, reading, and traveling.
---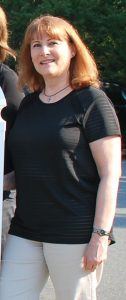 Sandi – Dental Assistant II
Sandi has been with our team for three years. She attended the Charron William College and the University of Florida dental assisting programs. Sandi helps our patients to feel relaxed and comfortable with their treatment, answering questions and explaining procedures to give them a better understanding of their treatments. For Sandi, the best part of our practice is the friendliness and earnestness of the staff in caring for our patients.
Sandi has two sons, one daughter, and ten wonderful grandchildren! Several of her grandchildren are adopted from around the world! She enjoys traveling and volunteering for Dental/Medical mission trips, and has assisted in 17 countries around the world.
---
Bentley
Meet Bentley! Bentley loves coming to work at Parkway Dental. He has the cutest underbite smile and loves every patient he meets. A one-and-a-half-year-old, hypoallergenic Maltipoo, Bentley has been visiting patients in our treatment room since he was only a puppy. He hopes to start therapy school this fall!
---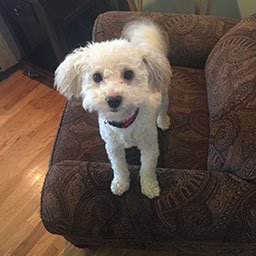 Louie
Meet Louie! Our re-homed puppy, Louie, loves cuddling with our patients at Parkway Dental. A 10-month-old, hypoallergenic Maltipoo, he has really taken to his many new friends at our office. If you sit by Louie, get ready to receive some kisses — they might be wet!